The "agile" panel at SECR-2008 is focused on business aspects of application of agile methodologies in software development. The panelists represent business leaders with years of experience in agile development, consultants, community leaders, and business owners sponsoring agile projects. The topics of the discussion cover business and organizational challenges of agile software projects, with a few controversial discussions inviting panelists and the audience to exchange opinions.
Questions to be discussed:
Business Drivers for Agile software development

Impact on Time-to-Market
Importance of Change tolerance

Agile development and corporate governance models
Outsourced application development: Business challenges in agile projects

Client versus supplier: what they expect from each other
Is Fixed Price contract possible?
What makes a high performing agile outsourced engagement

Agile methodologies: good practices or religion?

Limits and advantages of hybrid methodologies
Moderators:
Nick Puntikov - President, COO Eastern Europe, Exigen Services
Askhat Urazbaev- CEO of ScrumTrek, founder of AgileRussia
Speakers:
Stephen Mellor – an author of a few best-sellers about MDA, Agile Manifesto signatory, Chair of the IEEE Software Advisory Board.
David Webb – Exigen Services, VP of EMEA Professional Services, Head of Exigen's Global Agile Practice
Constantine Ivanov - CEO of Russian branch of eSignal (member of Interactive Data Corporation)
Victor Lamburt - CIO at Afisha Industries
Detailed information about moderators and speakers: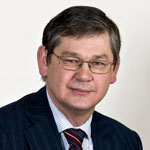 Nick Puntikov
Dr. Puntikov, who has more than 25 years experience in the global IT industry, began his career as an independent entrepreneur in 1991, founding one of the first software engineering companies in Russia. As co-founder and CEO of StarSoft Development Labs, Dr. Puntikov created a Top Three provider of offshore software development services in Russia and Eastern Europe.
In 2007, Dr. Puntikov led the merger of StarSoft with Exigen Services, taking on the responsibility for managing the global delivery organization for the combine companies.
In addition to his duties at Exigen Services, he is currently a member of the Board of The Russian National Association of Software Developers (RUSSOFT).
Askhat Urazbaev

Askhat Urazbaev has graduated from MIPT and made a typical career from junior developer to project manager. Later on, in Luxoft, Askhat as a process architect was engaged in adopting "heavyweight" methodologies in different departments of the company. Happily, thanks to one of the customers, Askhat got familiar with Agile. The new way of development looked very effective. Askhat has participated in several Agile projects.

Askhat started helping teams and departments to adopt Agile methodologies in Luxoft. In March 2006 he has started Russian Agile Community (AgileRussia.ru). In 2008 Askhat along with his partner Nikita Filippov founded company ScrumTrek which consults, trains and helps companies in their transition to Agile. Among the customers of ScrumTrek there are such companies as Yandex, Afisha, HeadHunter, Ascon, Luxoft, Infopulse and many others.
Stephen J. Mellor

Stephen J. Mellor is an internationally recognized pioneer in creating effective, engineering approaches to software development. In 1985, he published the widely read Ward-Mellor trilogy Structured Development for Real-Time Systems and in 1988, the first books defining object-oriented analysis.

A Foundation for Model-Driven Architecture in 2002. His latest book MDA Distilled: Principles of Model-Driven Architecture was published in 2004. He is active in the Object Management Group, chairing the consortium that added executable actions to the UML, and he is presently working on a standard for executable UML. He was a two-term member of the OMG Architecture Board and active in specifying MDA.

He is a signatory to the Agile Manifesto. In his copious spare time, he acts as chair of the IEEE Software Advisory Board. Stephen was until recently chief scientist of the Embedded Software Division at Mentor Graphics.
David Webb

In August 2007 David joined Exigen Services as VP of EMEA Professional services as well as heading up Exigen's Global Agile Practice. In his role leading the agile practice David is a regular speaker at industry events and has written several articles on agile software development.

Prior to joining Exigen David spent 8 years at Intel where he was Software Development Director – EMEA Sales and Marketing Applications. David managed the development team in EMEA that write applications for use globally by Intel's Sales and Marketing Group. His group was based in Russia and the UK

As a long time agile advocate, his role was also encompassed the adoption of agile methodologies across Intel`s IT development teams worldwide as well as devise and execute strategies that that led Intel to achieve its offshore development goals.

David also championed the use of outsourced agile development and has a long history of working with Exigen Services to define the methodologies and processes required to operate XP and outsourced development together. These processes were a major contributor to Exigen's growth as a global leader in Agile software development.
Constantine Ivanov

In 1999 Constantine Ivanov has co-founded TS Support, the company which specializes in software development for technical analysis and electronical trade. In 2004 Constantine got PHD degree in mathematical modeling for bond markets. From 2004 he is a head of Russian branch of eSignal, which is a world leader in delivering of stock market information in a real time.
Victor Lamburt

Victor Lamburt has worked as CIO in publishing house Afisha for the last 2 years. The team he has assembled succeeded in reengineering the site www.afisha.ru to support its sustainable development and to make it grow to the most popular entertainment guide in Russian internet.

Victor worked in RBÑ Soft till 2006, where he was responsible for organizing development processes for internet solutions.

Victor graduated from Moscow State University with Honors in 2001 and got PHD in mathematical physics three years after.