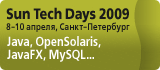 Sun Tech Days
Worldwide Developer Conference
Apr 8 2009 - Apr 10 2009
Russia, Saint-Petersburg, LenExpo, Hall 7
Website: http://www.sun.ru/techdays
Sun Tech Days travels the globe to share expertise with the software community about OpenSolaris, Java EE, SE, and ME platforms, JavaFX, MySQL, Open Source and more.
Saint-Petersburg Tech Days are your opportunity to hear technical reports from Sun engineers and representatives of the Russian developers' community and meet with some of the brightest software developers from around the world. It`s a chance to network with your peers, understand more about what`s going on from Sun and the industry and all in a local environment.
TEKAMA (www.tekama.com) and SECR-2009 (2008.secrus.org) are partners of Sun Tech Days.