Abstract: Tens of thousands of companies around the world are standardizing on VMware's flagship suite VMware Infrastructure to dramatically decrease the cost of computing, align IT infrastructure with business requirements, and provide unprecedented risk mitigation and resilience. This session will discuss VMware's roadmap of groundbreaking new products and technologies that expand the VMware Infrastructure suite into a virtual datacenter operating system (VDC-OS). The virtual datacenter OS from VMware allows businesses to efficiently pool all types of hardware resources - servers, storage and network – into an aggregated on-premise cloud to deliver a highly elastic, self-managing and self-healing datacenter. The session will also discuss how the virtual datacenter OS enables federation of on-premise and off-premise infrastructure to enable cloud computing.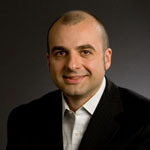 Bio: Bogomil leads the product marketing team for VMware Infrastructure – VMware's flagship suite for the datacenter. Bogomil brings more than 10 years of experience defining and marketing application and infrastructure software solutions.
Prior to joining VMware, Bogomil was Group Manager in the Customer Data Integration business unit at Siebel Systems, where he played a key role in growing the business from inception to more than $75 million in revenue over three years, capturing leading market share.
Prior to Siebel Systems, Bogomil was a product manager at CrossWeave, where he worked on defining a composite applications platform. Bogomil began his career as a management consultant at McKinsey & Company, where he advised financial services companies on strategic and operational issues.
Bogomil holds a Bachelor of Arts in Mathematics from Cornell University and an MBA from Stanford Graduate School of Business.